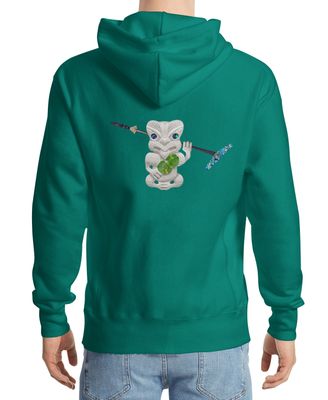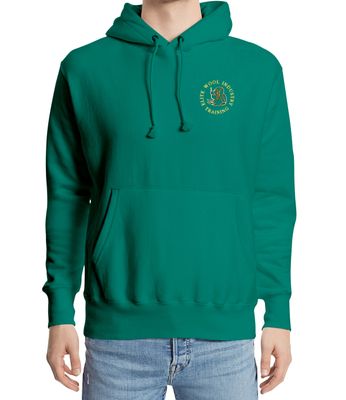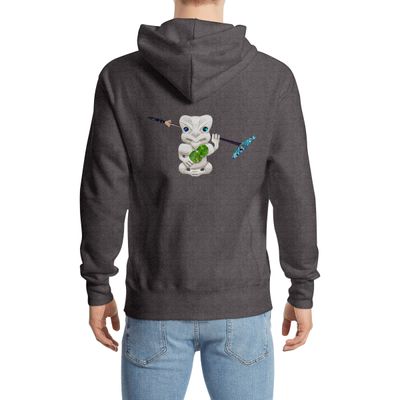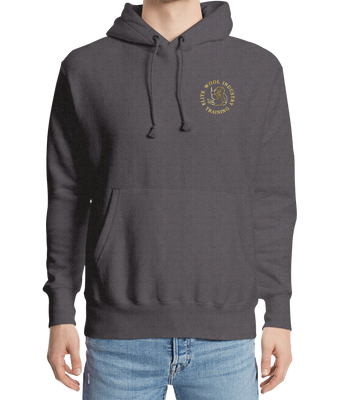 Hei Tiki + Taiaha Broom Hoodie
$80.00
or 4 interest free payments of $20.00 with
learn more
Te Hei Tiki
There are many customary uses and meanings attached to hei tiki. One view is that they constitute an ancient form which has been continually reinterpreted, so that many of the current meanings for the form are of comparatively recent origin,the latest iterations of many.

Hei tiki are multifaceted taonga. They embody a range of meanings and purposes on which emphasis can change from day today, moment to moment, or between different historical time periods and tribal localities, depending on social occasion or circumstance.

Set in this unique design, Te Hei Tiki represents a symbol of commemoration and acknowledgement of ancestors. There are many legends in the wool industry who have either departed the industry or left in physical form, of whom their legacy lives on through stories and teachings.

Taiaha

Mau rākau is the martial art that teaches the use of the taiaha and other Māori
weapons in combat. As with other martial arts styles, students of the taiaha spend years mastering the skills of timing, balance and co-ordination necessary to wield the weapon effectively.

Taiaha is represented in the form as a woolhandling broom with this design, bestowed as a tribute to the art of woolhandling - an occupation that requires many years of up-skilling and dedication to become a master of timing, balance and co-ordination.

Front left chest: Gold Logo 80mm x 80mm Supacolour
Back: Whakaea Logo 300mmx300mm Supacolour
Hoodie Description
AWDIS JUST HOODS

Want a cool and stylish outfit all week long? Choose this hooded
sweatshirt. Vulgarity is a word to banish, because your appearance will be more polished with this fetish piece of your wardrobe.

This is a unisex, WRAP-certified model that goes just as well with jeans as with
loose or slightly tight pants. This model will be your best ally during the
winter seasons and cool evenings, because its lined hood , comforted by a
tone-on-tone drawstring, will protect your head against breezes.
The kangaroo pocket is used to place keys and wallet safely during your
walk. This sweatshirt is also very resistant and durable thanks to the
presence of ribbing at the wrists and waist . Its quality of manufacture
is also observed at the level of the double needle finish.

Reference: JH001
Fabric: 80% ring-spun cotton, 20% polyester
Weight: 280 gsm
Sizes: S to XXL
✓ 280gsm 80% ring-spun cotton, 20% poly
✓ Soft brushed inside
✓ Lined hood with drawstring
✓ Modern fit
SKU: 10000-10-1-6